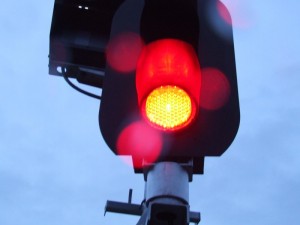 Installing and maintaining rail signalling equipment demands highly specialised knowledge and skills, so there are limitations to who can enrol in Certificate III/Certificate IV training.
Enrolment in HRD Certificate IV rail signalling training is open only to people employed in rail infrastructure EITHER as an apprentice signal maintenance technician OR as a trainee signal maintainer who holds the recognised electrical trade qualification. Employer support is essential.
Rail signalling specialisation units (from the Certificate III trade qualification; these are also known as 'the wiring units') are available to electricians employed in rail signalling construction. Once again, you must have the support of your employer.
Why? Learners need to have access to technology/infrastructure and maintenance procedures in the workplace to apply theory and to practise skills. Access to working infrastructure is required to be able to undertake the workplace assessments essential to demonstrating competence.
HRD provides the training but doesn't supply the infrastructure you practise on.
HRD isn't an employment broker. We cannot provide advice about employment opportunities with rail franchise–holders or rail infrastructure construction companies. Contact these organisations yourself to discuss potential vacancies or to find out about their requirements.