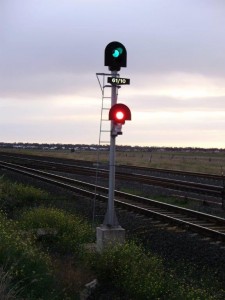 The ARTC–ST144 Signals Safeworking course provides participants with current knowledge of ARTC Signal Safeworking rules,  standards and procedures for work in NSW, SA, VIC and WA.
ST144 replaces the ST43 program. It's delivered over 5 days of classroom and practical training.
A two day recertification program is available for people who hold the ST43 accreditation.
The training program explains:
state-specific signals safeworking rules, standards and procedures that apply to working on ARTC equipment
outlines the steps required for a number of important safeworking procedures
identifies correct safeworking practices whilst working on ARTC signalling infrastructure
The HRD-ST144 Signals safeworking course is a must for contractors wishing to work on the ARTC network.
Enquire now or download a ST144 brochure.