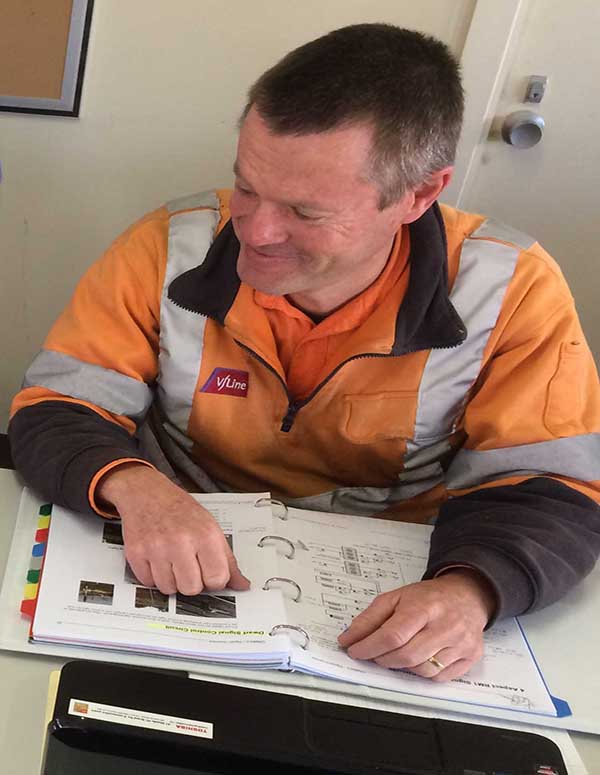 Enrolling online
Enrolling online is quick and easy.
Have an approved identity document ready.
Choose the course you're enrolling into, then select the LLN task you need to complete.
Use your USI or create one.
Read the induction.
Fill out the enrolment form
HRD Courses Register

Find out here if your course is accredited or non-accredited.
HRD Accredited Course List
Qualifications
Certificate IV in Electrical–Rail Signalling
Certificate III in Mechanical Rail Signalling
Certificate III in Rail Infrastructure
Certificate II in Rail Infrastructure
Short Courses
An accredited short course is aligned to a Training Package unit of competency (or a nationally recognised course).
Training is nationally recognised. A Statement of Attainment is awarded on demonstration of competence.
Accredited short courses offered by HRD include
Rail Labourer Core Skills
Rail Signalling Control and Wiring System Concepts (Install and wire rail signal equipment)
Test interlocking frames
Rail Signal System Testing
First Aid training
Low voltage rescue
HV Authorised Operator S2
Construction induction
Operate a vehicle–mounted loading crane
HRD Non-Accredited Course List
A non–accredited course is training that's not based on a Training Package unit of competency. It's not nationally recognised training.
Common specialised HRD courses that are non-accredited are
Introduction to Rail Signalling Systems
The Rail Signal Systems Graduate Engineer Program
Function Tester–Locations
ARTC Working in Live Electrical Locations
ARTC ST144
MicroLok
MicroTrax
GCP 3000/4000
HV Competent Person
enrolling into a HRD Course online
Complete your enrolment by following the process below
1. Collect your documents
You must have evidence of your identity and citizenship. Have ready at least one of the following documents and information to help complete your enrolment:
Current Australian/NZ passport, Australian driver's licence, identity card or Medicare card or other accepted documentation to verify your identity (eg full birth certificate).
Bring photographic proof of identity to your first class.
2. Complete the online Language, Literacy and Numeracy (LLN) assessment
When you are enrolling into nationally recognised training you must complete an LLN assessment.
This is an online reading, writing and numeracy assessment and it must be completed before enrolment can be finalised.
Your LLN result will be used to help HRD identify any educational support needs that you may have.
Access the LLN check for your course by selecting the course link below.
Follow the instructions to complete and submit the LLN skills review.
(An LLN check is not required for non-accredited training.)
HRD will contact you in 3-5 working days of receiving your LLN review ONLY if your LLN skills may be a barrier to you successfully participating in training and assessment.
3. Create/use your Unique Student Identifier (USI)
It's a government requirement that you have a USI to enrol in a vocational education program. The USI is a reference number that will give you access to an online record of all of your recognised training and qualifications.
You can use your existing USI or create one for the first time.
If you already have a USI go to STEP 4. If you've lost your USI, follow this link to find your USI.
To create a USI you'll need your ID ready, such as a Medicare card, current passport, full birth certificate or driver's licence.
Once you've created your USI, make a note of it as you'll need to provide it as part of completing the enrolment form.
(A USI is not required for non-accredited training. However, HRD recommends that you get one as it helps smooth administration.)
4. Read the HRD induction information
It is important that all Registered Training Organisations ensure that learners are adequately informed about the services they are to receive, their rights and obligations, and the RTO's responsibilities.
You must read the induction information before enrolling into any course. You should also read the Privacy Notice that informs learners of how data collected during enrolment is used.
Read the Induction Information for your course by selecting the course link below.
5. Complete your enrolment form
Access and submit your online enrolment form below
Not sure if your course is accredited or non-accredited? Check out the HRD Courses Register at left.
Remember, if you have any concerns or questions we're available by phone or email to help you.